Most songs will include playback within the app, but if you find that you're not hearing any sound from the app during playback, please try the following troubleshooting tips:
System Sounds
Go into your Control Panel (swipe down from the top right corner), and check for the System Sounds icon. If the icon shown below is red (with a slash through it), you may not be hearing any sounds from the Sheet Music Direct app. Tap this button to "unmute" your system sounds. Then see if sound works again from the Sheet Music Direct app.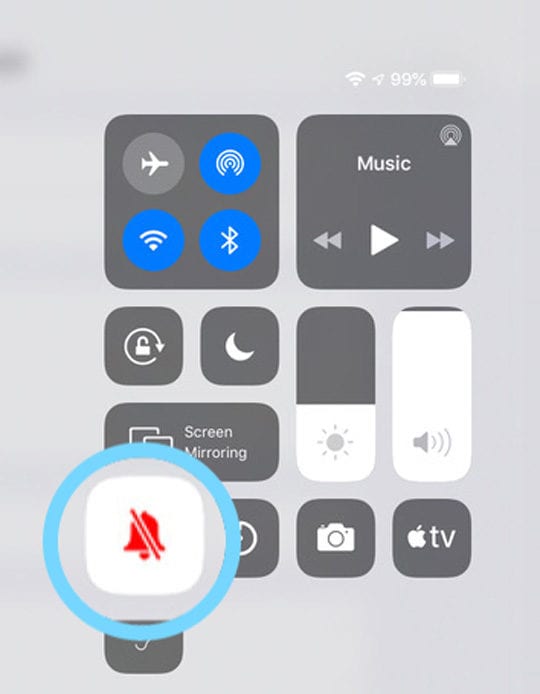 Side Switch
If you are on an iPad / iPhone that *does* have a side switch along the right side, go into 'Settings' then 'General' and scroll down to where it says 'Use Side Switch to:' and set it to 'Lock'. (Even if the toggle button is set to Screen Lock instead of to Mute, changing the setting to Mute and then back again to Screen Lock should fix the problem.)
Playback Device
If you are using our iPad / iPhone app, please also check to make sure a playback device is selected and enabled within the app. To do so:
Go into app
Under Library, tap on a song (one that is Interactive and would include Playback) to view
Tap on Settings button (lower right-hand corner)
Tap on Bluetooth MIDI Playback Devices
Be sure that iOSMIDIDevice (GM) is selected (with a checkmark next to it)
Then try using the Playback feature once more
Bluetooth Settings
If you are still encountering issues with no sound coming from your iPad/iPhone, this may be related to the Bluetooth setting. On your iPad, tap Settings and then Bluetooth. Then turn off Bluetooth. Then see if sound works again from the Sheet Music Direct app.
Restart Device
If the above recommendations do not work, you may also want to try restarting your iPad/iPhone, as a few other customers who experienced this issue reported that restarting their iPad completely had resolved the "no volume" issue for them.
Apple Support Troubleshooting Tips
For a full list of troubleshooting steps, please refer to the following Help article from Apple Support: