Your purchased sheet music will be located under My Account > Order History. From there, select the song title you wish to view.
Mobile Users: Tap the Menu icon

​ to Log In and access My Account > Order History.

Interactive titles may include some of the following features:
Transposition of your sheet music
(NEW!) Hide/isolate or mute instruments/staves
Adjust the Top Staff Instrument of your sheet music
Adjust the Note Size larger or smaller
Use Playback, adjust Tempo, (NEW!) trigger Metronome
(NEW!) Download/Print separate instruments/staves (purchased items)
If a title is listed as Interactive, you will have the opportunity to utilize these Interactive features before or after you complete your purchase. Learn more about the Noteflight Viewer features.
Once you purchase an Interactive title, you will want to apply any of the Interactive changes before you download and print your purchase.
Follow these steps to transpose, download, and print your purchase:
1. Log into your account here.
2. Navigate to My Account > Order History.
3. Select the arrangement you'd like to make your changes to.
4. If the song you've purchased is Interactive, it will show both an Interactive and a PDF tab. While under the Interactive tab, click on any of the Interactive Viewer buttons to apply your changes. For example, to transpose, click or tap the Score button, as shown below.

5. Select the new key you would like to transpose to.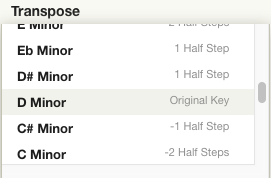 6. ​​Once you are happy with the transposition that you see on the screen, click on the Print / PDF button.

7. This will download the current state of the arrangement to a PDF file, which you can view or print from your device.
Note: The download may either open in a new tab, or prompt you to Save or Open your PDF purchase on your computer. To access the saved PDF item in the Downloads folder, just press CTRL+J on Windows or ⌘+J on Mac while your browser is open.
We recommend using the free Adobe Reader software to view and print your PDF.