The Noteflight Viewer is the world's leading web-based sheet music viewer, providing interactivity for use on any device, including computers, tablets and smartphones. The Noteflight Viewer is used for all Sheet Music Direct Interactive titles on sheetmusicdirect.com.
Interactive titles include advanced features like playback, transposition, tempo control, variable note sizes and more. PDFs can be downloaded in all available keys at no additional cost.
Learn more about making modifications to your Interactive purchase.
1. Playback
Allows you to hear the Interactive score played back to you in MIDI form. This is helpful for studying a score, playing along for practice, or using as a simple accompaniment.
Playback controls include Play, Back to Beginning, Pause, and Stop.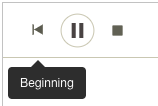 2. Playback Settings

Adjust the playback

tempo

.

Add

Metronome

and adjust metronome volume.

Hide

/isolate or

mute

instruments/staves.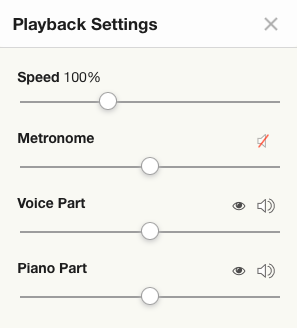 3. Score Settings

Adjust the

note size

and staff size smaller or larger.

Toggle between

Page View

(use left/right arrows to turn pages) and

Scroll View

(scroll or swipe up/down to turn pages).

Instantly

transpose

the song to any available key, up to one octave higher or lower.

Select a different

Top Staff Instrument

. For select arrangements that include piano and a separate vocal (top) staff, you can select a different instrument for the top staff. This will transpose the vocal melody line for your preferred instrument.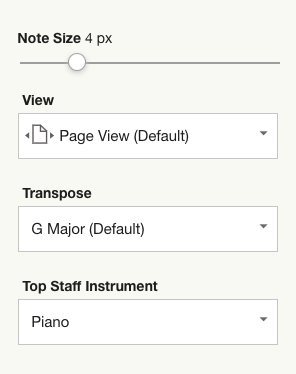 4. Download: Print / PDF

Selecting Full Score will download the score to PDF as-is and allow you to view or print from the PDF file.
For formats with more than one instrument (for example, Piano, Vocal & Guitar), you can also choose to print Individual Parts or a combined PDF with both the Full Score and Individual Parts.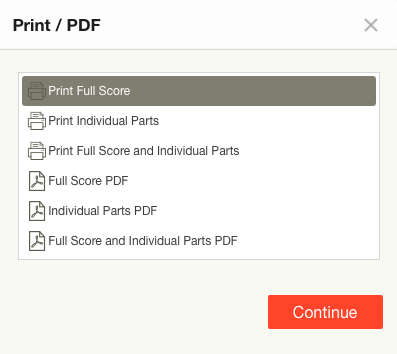 Click Continue and Print/Save to complete the download of your PDF. This will download what you see to PDF and will allow you to view or print the PDF, which will likely appear in your browser's Downloads folder. Press CTRL+J / ⌘+J while still in your browser to open the downloads folder.
5. Full Screen
Click the Full Screen button to view your sheet music full screen. Select the button again or hit the [Esc] key to exit.